5

min read
Currently the new backup system is BETA only. 
To activate backups 2.0 head to your servers page and click on the name of the server you wish to activate it on. 
Warning: This will disable Borg and purge all existing Borg backups from your system. You are responsible for ensuring you have existing backups in place. By enabling Backups v2 you accept full responsibility for this action and confirm you have alternative backups in place. Only enable if you agree to these conditions. Once enabled, this can not be disabled. Borg is going back to the Delta Quadrant.
This new backup system replaces "Borg", our previous system for local backups. Borg got the job done, but it came with certain restrictions that we wanted to dramatically improve upon. Our new system does just that and is one of, if not the most, comprehensive backup system available today.
This article will walk you through how to set up your backup schedule, take manual backups, adjust the % of storage that local backups can be allocated on your server, and how to restore a site from a backup.
Getting Started
To get started, head over to the Sites page in your account:

Then click on the name of any of your websites to open up the site configuration modal, and navigate through to the backups tab.

Here you'll see the new options available for the new backup system. You'll see both local and remote options are located in this tab, and you can learn more about remote backups in this article: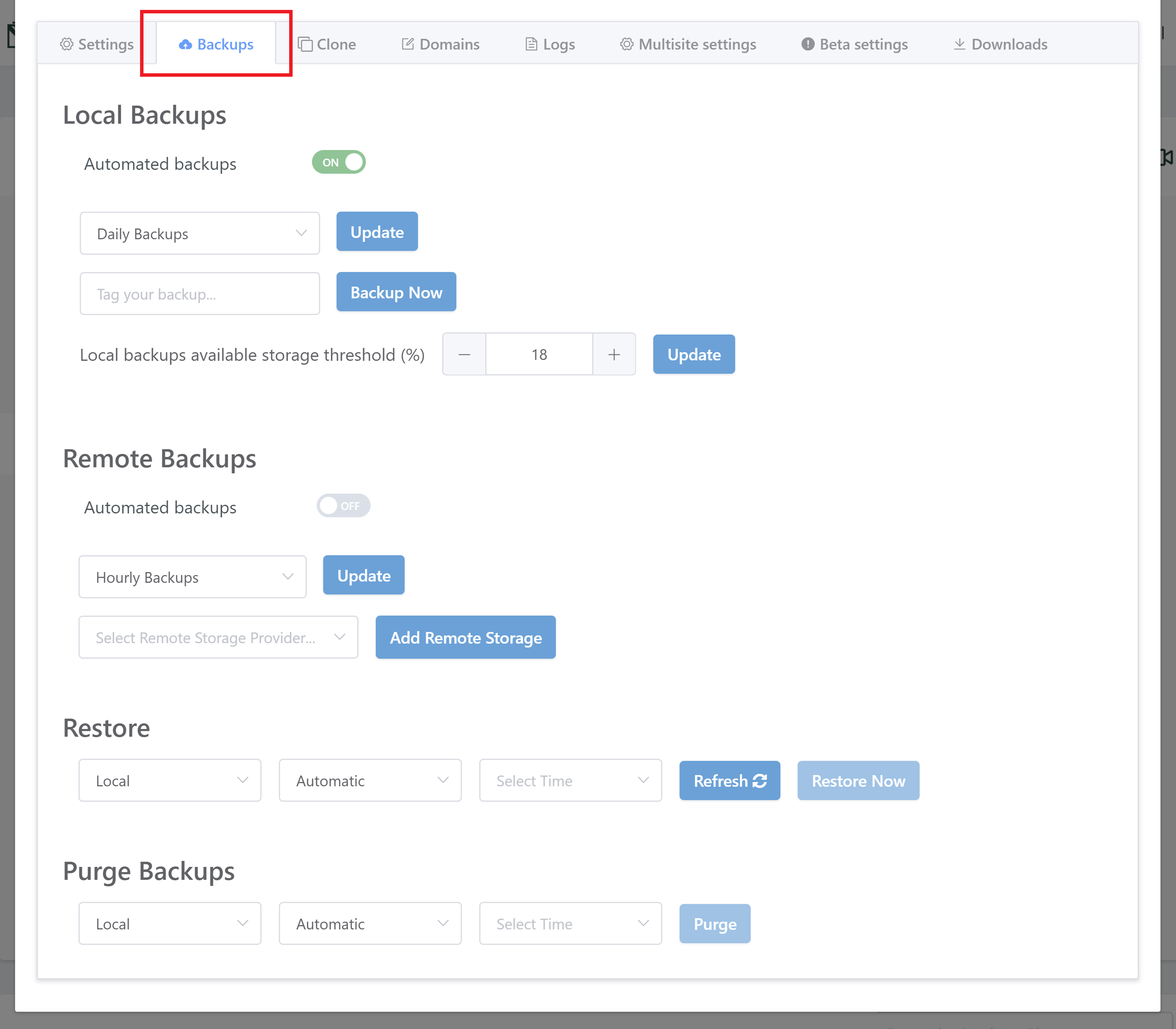 Automatic Backups
You have the option to set your backups on an automatic schedule. This can be set at any of the following intervals:
Hourly
Daily
Weekly
Monthly

Select your preferred schedule from the dropdown and then hit the update button to confirm your choice. Backups will then take place automatically according to this schedule.
Backup Storage Time
The storage time will depend on which backups you choose hourly, daily, or weekly, and will kept as follows:
Hourly for the previous 12 hours
Daily for the previous 30 days
Weekly for 180 days
Monthly up to 1 year
Manual Backups
You can take a local backup of your site manually any time you need to do so.
You can also tag your backup to make it easily identifiable if you later need to use it to restore your website. 

Local Backups Storage Threshold
Updated: This is the threshold of free space required to run a backup for your site. If there is any less than this amount of free space on your server the backup will not run.
You can adjust the threshold % to tell the server when backups should pause, based on available free storage space. Backups will automatically resume when space becomes available again.
For example, if the threshold is set to 25% as pictured below, backups will cease to run when the available disk space on your server is less than 25%.

Restoring from a Local Backup
If you ever need to restore one of your websites from a local backup you can do so quickly and easily. Below the remote backup options you'll find the Restore options.
Select local, and then choose either automatic or manual from the second dropdown, and then choose the backup you wish to restore from in the third dropdown.
When you've selected your backup hit the "Restore Now" button.

If you're not seeing the backup you're looking for, hit the "Refresh" button to get ensure all of the latest backups are available for you to view.

Purging Local Backups
You can remove any of your backups from your servers with the Purge option. This is located at the bottom of the backups tab.
To purge a backup, use the selection options to find the backup you wish to delete and then hit the "Purge" button to delete it from your server.

Storage Time and Quota
We retain backups on the following schedule as long as the server has the available storage space as per the storage threshold setting. Once the server disk space exceeds the set threshold, you may need to remove some older existing backups or readjust your backup schedule. 
Restore Points
We keep every restore point up to 7 days worth. So, if you've set your site to hourly backups, we'll be saving each hourly point up to 7 days (168 points of recovery).
Then we keep 1 restore point for each day older than 7 days. So we'd have one restore point on each day from day 7 to day 30.
Then we keep 1 restore point for each week for up to 6 months (180 days).
Then we keep 1 restore point a month up to 1 year, and we purge anything that happens to be older than a year.
Short Version Summary
IF HOURLY: Hourly for the last 7 days
Daily for the last 30 days
Weekly up to 180 days
Monthly up to a year
Any backups that are older than one year (including manual backups) are automatically purged.