4

min read
Introduction
The default system user GridPane uses to deploy your serious WordPress sites is gridpane. However, on any one of your servers you may have multiple sites, depending on the size of your server. As each site (or group of sites) will usually belong to a different client it makes sense that that client should have SFTP (it's stronger than FTP) access to their WordPress site(s) and their site(s) only.
We can achieve this by adding a system user for each client, and then choosing that user when deploying the client's site to set ownership. This way the client has sandboxed access to their site's WordPress directory and database only, and cannot affect any other part of the server.
Another benefit of using different system users for different sites is additional security. As each site exists in a separate user sandbox within the server, a vulnerability on one system user's site can't be exploited to gain access to a different system user's sandbox. Given these benefits, this is the recommended way to deploy sites on GridPane.
Update: As of July 2020, you can now create new system users at the same time you create new websites. You can learn more about this and how to set your default options for creating new websites here:
New WordPress Website Build Configuration Settings
All of the information below is still correct for the manual creation of system users and will help you create new system users for websites that you clone/migrate if needed.
Step 1. Go to System Users Page
Navigate to the GridPane system users page in the GridPane control panel by clicking on the link in the top menu bar.

Step 2. Create your System user
Assuming you have already provisioned a server you can add a system user. It is very straightforward, all you need to do is configure your System User credentials and then allocate it to a GridPane server.
Choose a Username
When choosing your System User name, remember this is a linux username so there can be no whitespaces only letters, numbers, and characters.
Choose a secure password
Next enter a secure password for your system user, and then confirm the password.
Add your SSH Public Key (Optional)
Lastly add your Public SSH Key if you plan to access your domain over SFTP via this system user. If you don't have an SSH Key, please check out the following guides to get started:
 You will need to copy the entire text content of this file to your pasteboard and enter it into the provided Public Key textarea input field.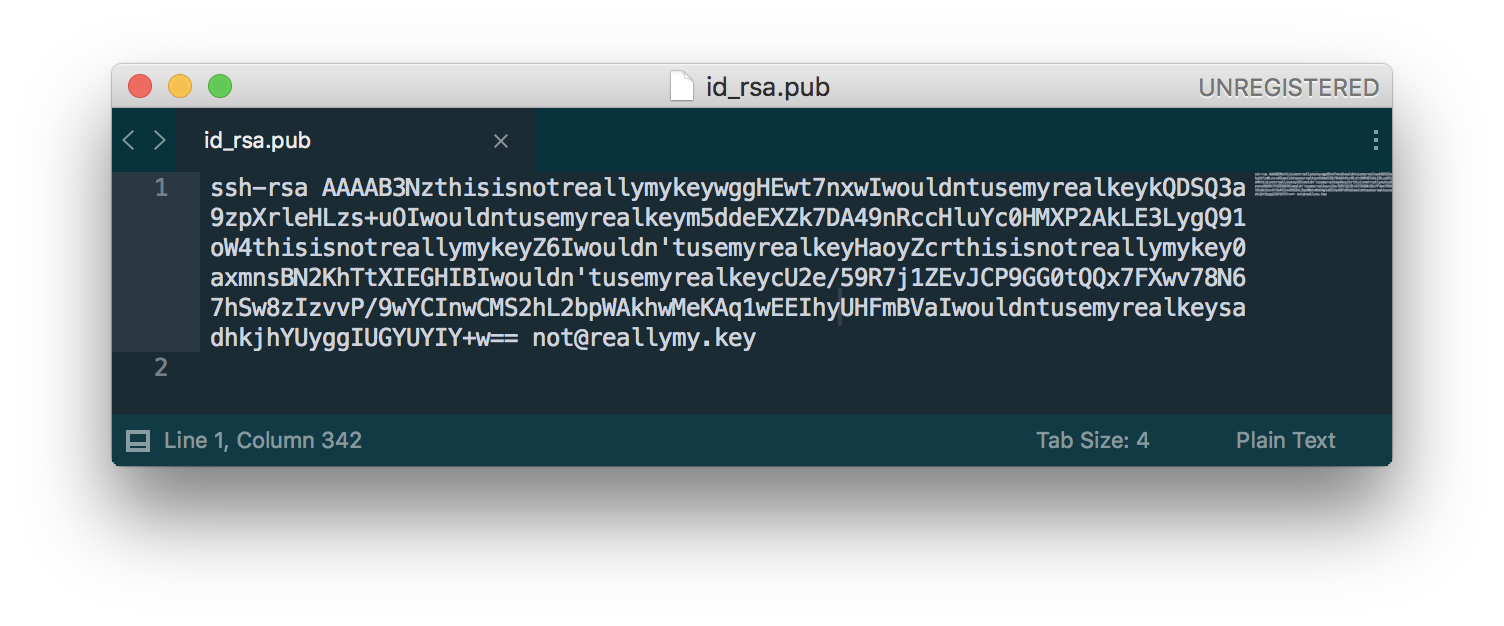 When you add your Public SSH Key, please make sure that there is no newline following the last character of the key.
This is good and the key will work.

This is bad and the key will not work.

Click Add user to create your system user.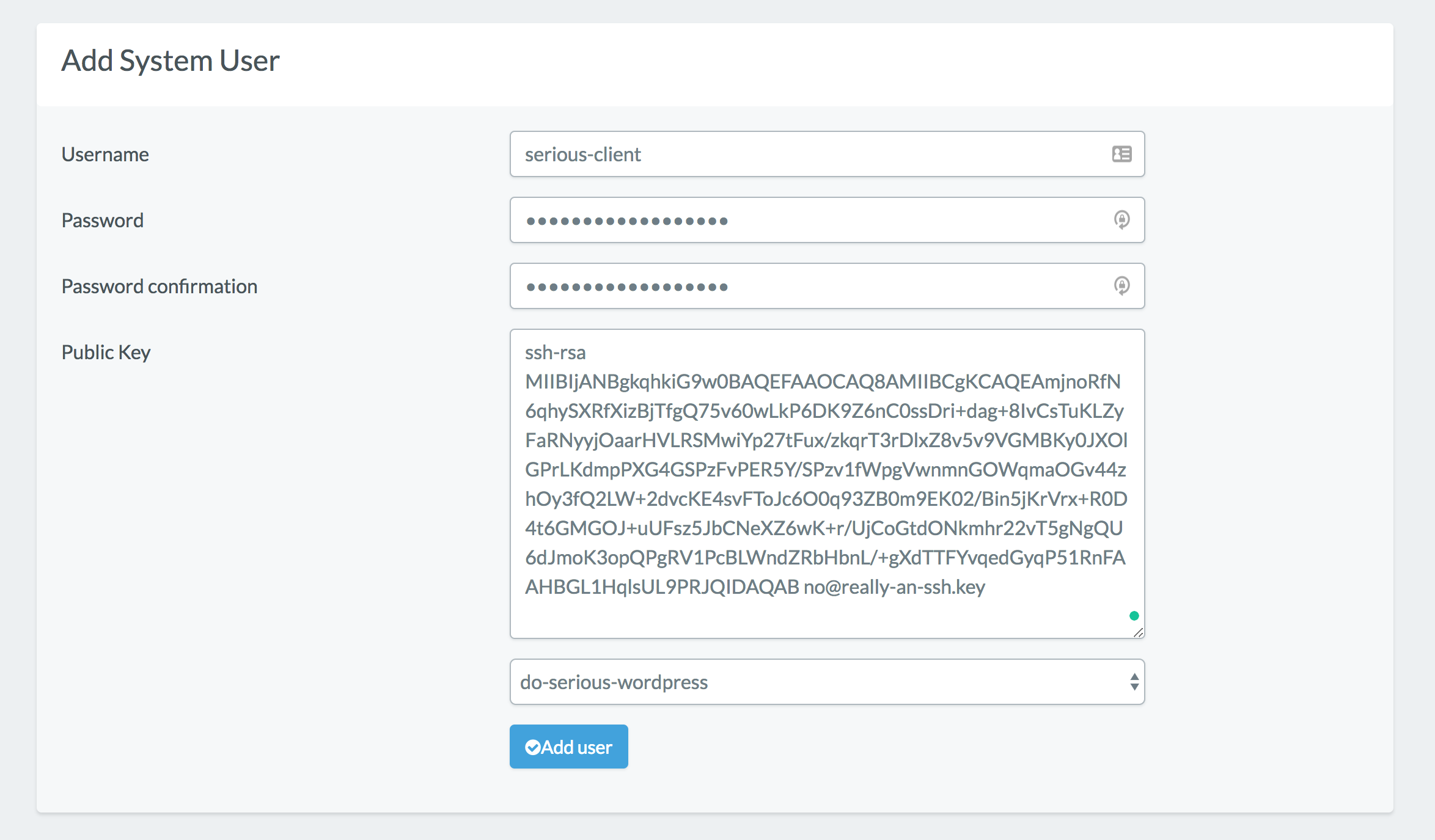 Your system user will now appear in the dashboard below the Add System User panel.
Step 3. Provision WordPress sites with your System User
Now it is as simple as choosing your system user from the System User dropdown selector when you provision sites on your server.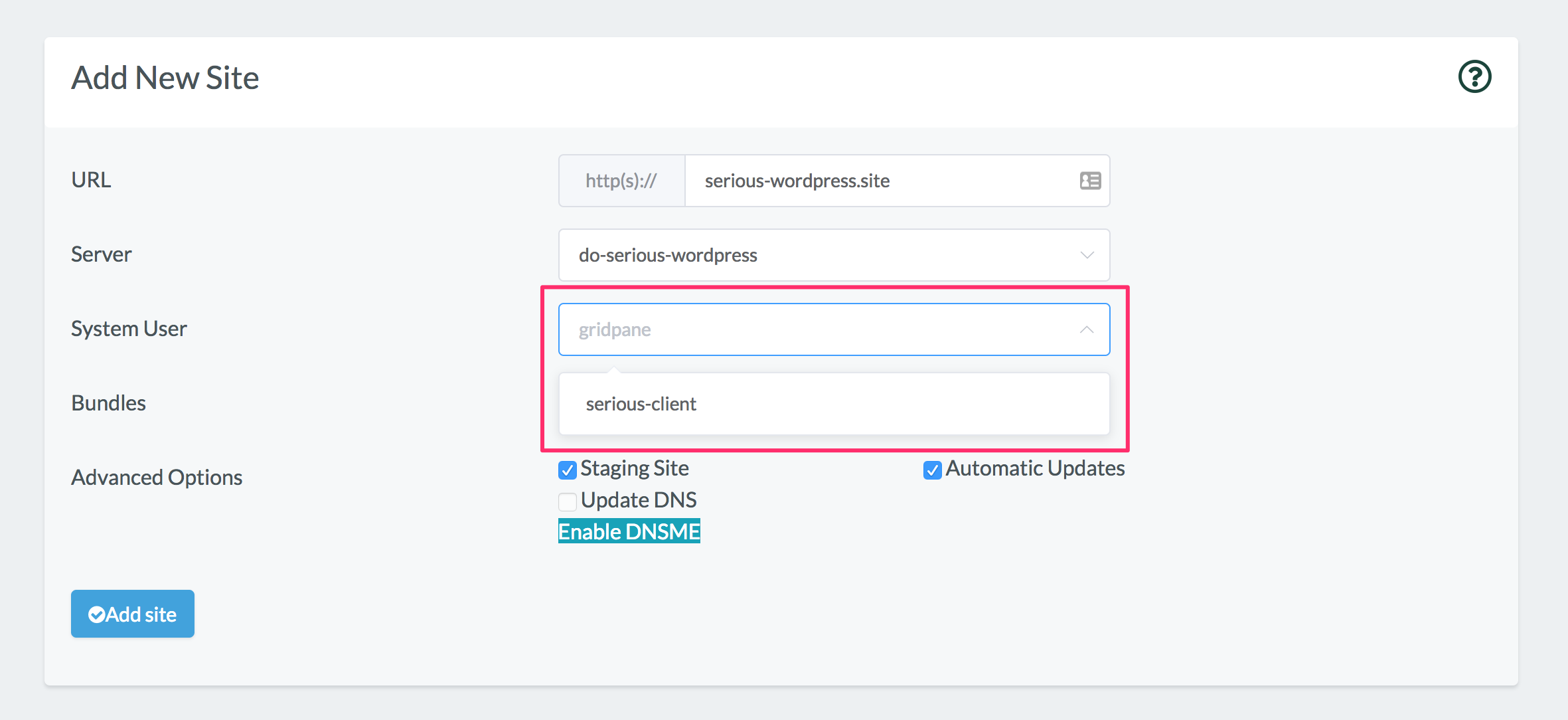 Once the site has been provisioned you will see your System User in the user column of the site in the Active Sites panel.

We have a separate article that guides you step by step through the GridPane site deployment process here.
And if you need to change a website from one system user to another, you can check out this article.
Step 4. Access your System users sites via SFTP
Now you can access your system users home folder via SFTP, using either a SSH key pair or password, to upload/download and update the sites directories and files.
We have a separate article that takes you step by step through the process of accessing GridPane sites by SFTP as a System User here.