4

min read
It is very easy to add SSL Certificates from the free Let's Encrypt Certificate Provider to the domains associated with your GridPane site. This will allow your site and it's domains to be served by the encrypted HTTPS protocol, and your visitors will also benefit from the speed increased enabled by HTTP2 which only works via HTTPS.
Full management of SSL certs for domains attached to GridPane managed sites is handled by the Domain manager tab in the site customizer: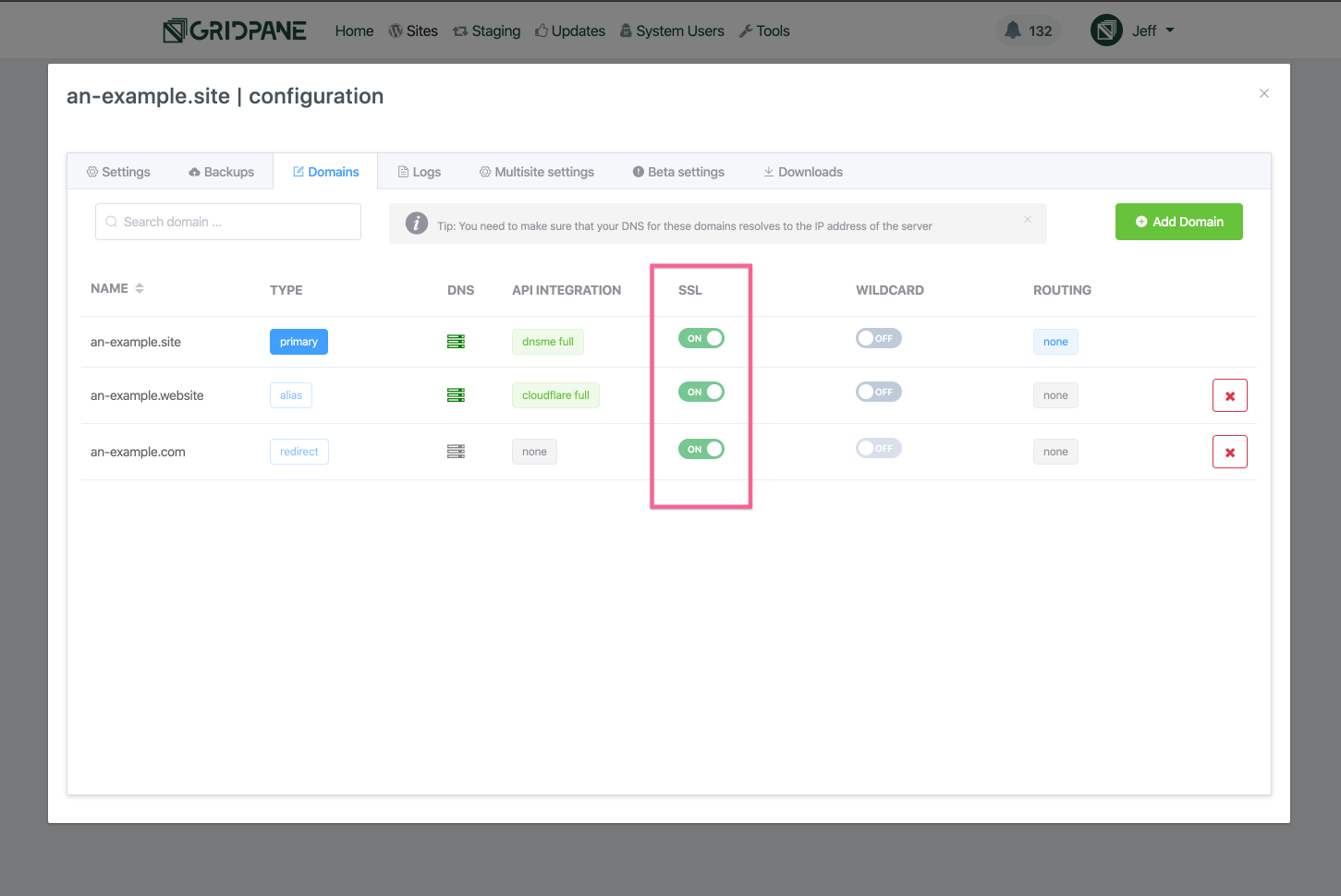 This approach means your site's domains all have separate SSL certificates.
There are several benefits to this approach, most notably the fact that there is no "site" SSL, so there are no limits to the number of domains on an SSL for your site. Your site can have as many domains as you like, and each domain has its own discrete SSL. This also means that a problem with DNS for one domain will never affect the SSL certificate for another domain on your site.
Unlimited SSLs per site
Unlimited domains per site
Isolated and discrete SSLs per domain
GridPane also utilises 3 different methods to verify domains for the provisioning of SSL certificates:
Webroot domain verification method.
Managed domain verification method by DNS API integration.
Proxied Domain verification method by DNS API integration via a challenge domain.
For the DNS API integration methods of domain verification, we currently support two of the most popular DNS management providers (we will be adding more shortly):
These DNS integrations also allow us to automate the provisioning of Wildcard SSLs for any and all of your domains, including primary domains, alias domains, and redirect domains.
And every SSL for every domain can be managed independently, completely granular control of your site's SSL certificates.
Sweet!
Given these options and control we are providing, we figured it was best to break this Knowledge Base article out into separate articles, each clearly explaining how to provision an SSL using that specific method.