2

min read
If you wish to securely access your server by SSH or SFTP then you will need to add your Public SSH key to it. GridPane makes it easy to add or remove your SSH Key to any Active Server.
Step 1. Go to Your GridPane Settings
Login to your GridPane account and click the Your Settings menu item in the dropdown menu accessible by clicking on your username and icon.

Step 2. Add your Public SSH to the GridPane SSH Keys settings panel
Locate and click the SSH Keys option in the left horizontal menu, and then paste your Public SSH Key in the Add SSH Public Key panel and click Add Key. You should name this key, since the key will be used for root access to your server I would suggest calling it the root key.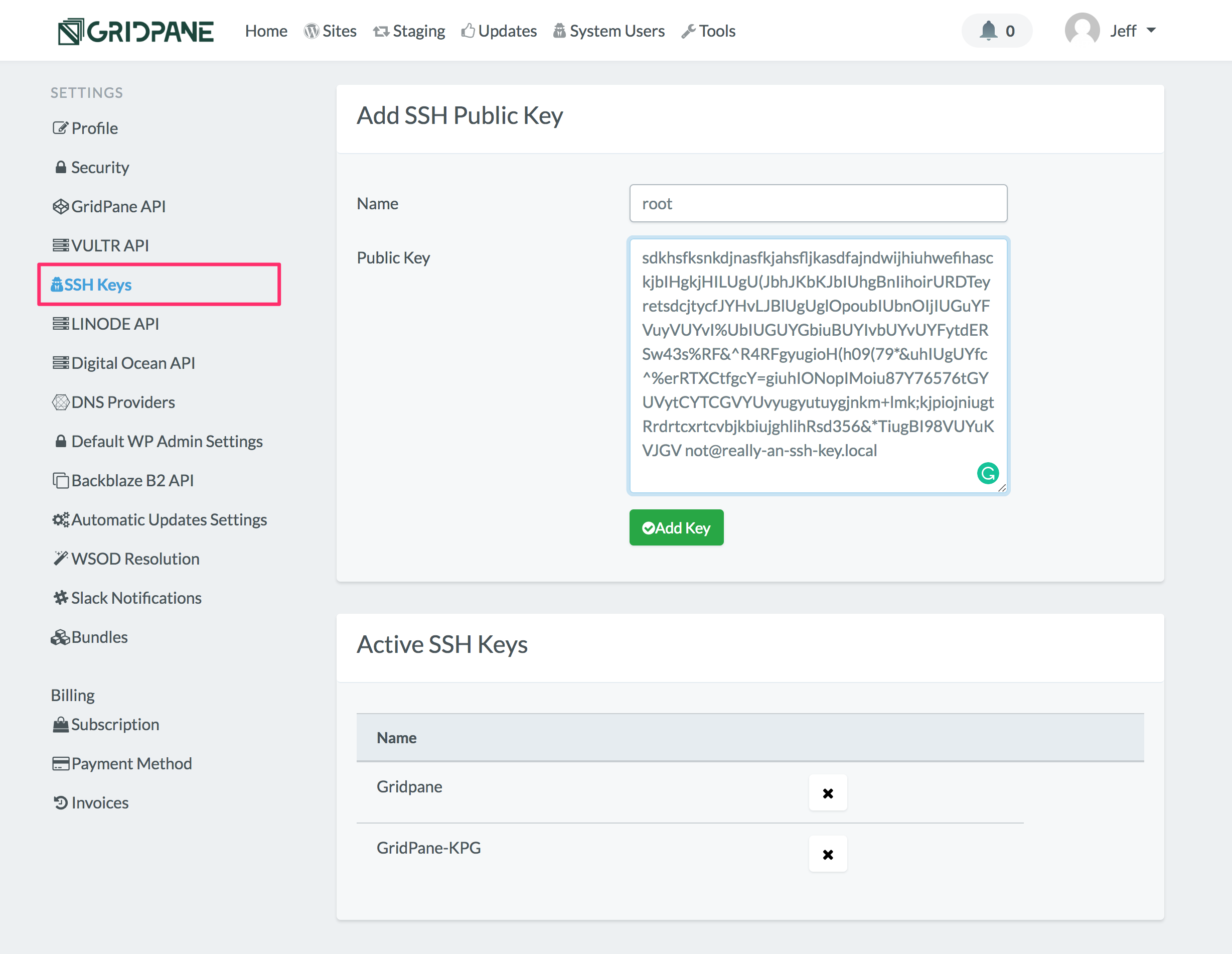 Once you have successfully added your public key it will be listed in the Active SSH Keys panel. If you wish to delete it you can click the delete button beside the key in the panel.

Step 3. Go to the GridPane Home page
The list of Active servers is located on the GridPane home page. Click Home from the GridPane main menu to navigate there.

Step 4. Locate and Click the Add/Remove Public SSH Keys button
In your Active Servers list click the Add/Remove Public SSH Keys button located to the right of the server row. The button has a key icon.

Step 5. Add/Remove a Public SSH Key
A pop up modal will appear containing checkboxes for all of the Public SSH Keys available from Your GridPane Settings. The modal contains a tabbed box with options to either add or remove keys.
To add your your key, click the Available Keys tab, then check the box next to the key you wish to add, and click Add Keys to Server.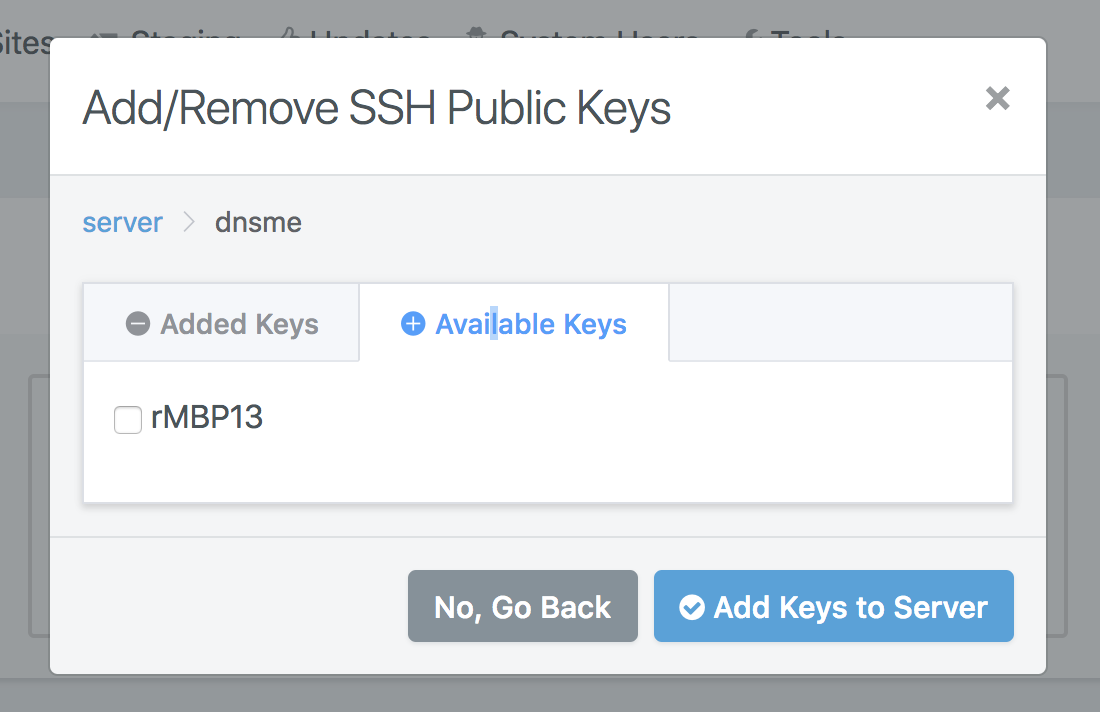 To remove a key, click the Added Keys tab, then check the box next to the key you wish to remove, and click Remove Keys from Server.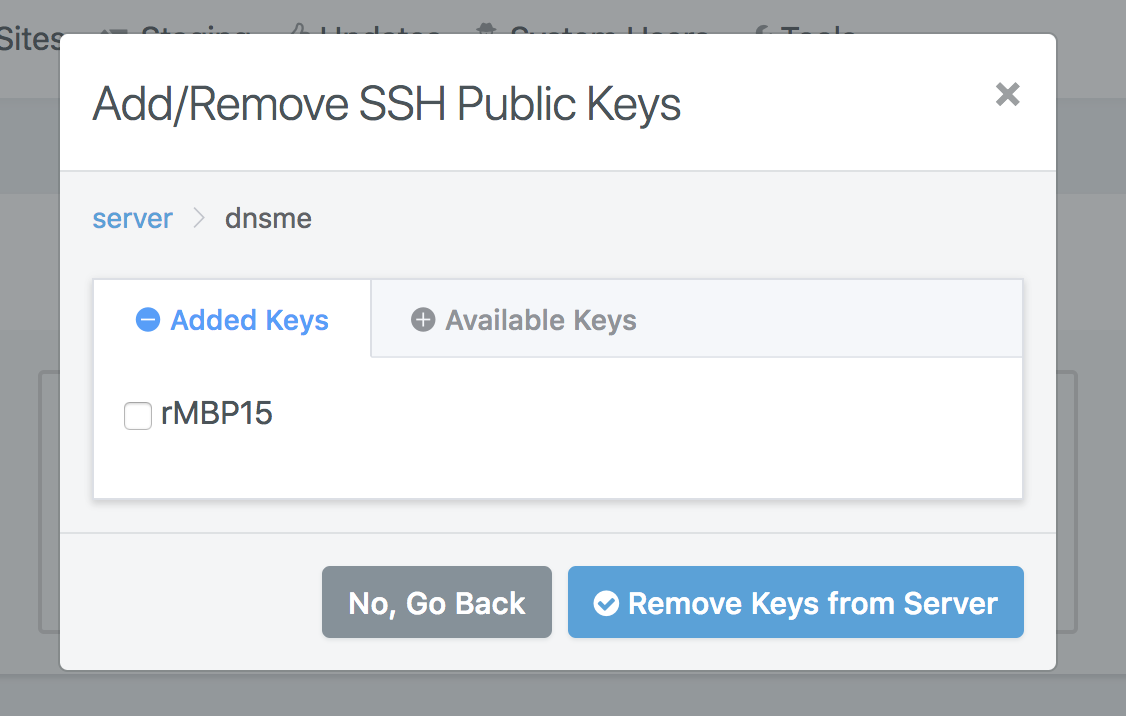 Step 7.  Mark your SSH Keys as Default (optional)
GridPane has a Default SSH Keys feature which allows you to add your keys to any servers you provision automatically.
We have an easy to follow guide to help you enable this feature here.